Our Facility
Mo Dog Kennels is owned and operated by Robert Allen and family. Our ten acre farm with fenced in kennel area is ideal for raising happy healthy dogs. Our licensed facility is "one of the best in the district" according to Animal Care Inspector Jim Gauthier ID:4008.
Our custom designed kennel is top of line focusing on comfort, privacy and function with stainless steel wash downs and dividers. All stalls have coated wire flooring custom ordered with extra small gaps providing optimum comfort for adults and safety for small pups.
Our facility also features aluminum feeders, automatic watering system, AC, heating, purified air, and more. Our little buddies are quite comfortable in their cozy "puppy penthouse".
With the exception of Chihuahuas that prefer a roommate each adult dog has its own private indoor/outdoor pen with running water and a steady supply of fresh premium food. We also provide beds, peaceful music, air conditioning, heating, healthy treats and lots of outdoor and in-house time.
Our goal is to continue improving on everything we do. We're always striving to achieve and maintain individual breed size, qualities and structure in accordance with AKC standards, however our main focus is on overall health and temperament.
We feed only breed and age specific Royal Canin dog food. Nutrition is only half the recipe for good health so we also provide daily outdoor exercise (weather permitting) and a comfortable, spacious, clean living environment.
At MODOG we believe the canine temperament is the product of three sources. The breed characteristics, traits of the parents, and most importantly conditioning and environment. We have happy healthy dogs that consistently produce beautiful, confident well socialized puppies.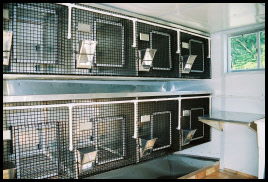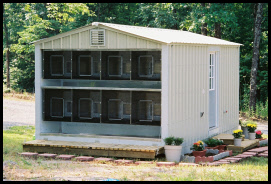 Whelping
Our expecting moms are moved in to a whelping/nursing area two weeks prior to due date, to allow them to get settled in. We pamper and prepare them with special foods and other perks while providing a safe comfortable place for them to deliver their precious babies.
Most our mothers do fine on their own others require some assistance. We always make sure our trusted vet is available should we experiencing any difficulties. I try not to interfere unless needed.
With large litters I often move puppies to a safe warm place while mom delivers the next sibling then return them to nurse between. The tails are docked and dew claws removed immediately or within 3 days, on breeds requiring these alterations. There's much more to it than that so give us a call if you have any questions regarding our procedures.
The moms all welcome and appreciate our presence during these crucial moments and we feel very blessed to be a part of so many miraculous events in one lifetime.
Customer Care
We don't just sell you a puppy and disappear. MODOG has a 99% customer approval rating since 1995, and offers health and satisfaction guarantees. As a former customer service advisor I remain very client focused. We are extremely concerned with your satisfaction and the welfare of our puppies.
We welcome your calls and emails and strive to empower and assist you through all stages of canine life. We equip every client with the informative Royal Canin care guide, our exclusive MODOG training tips page, product recommendations, plus a lifetime of friendly helpful support. Now we even have places to meet online like the MODOG Blog!
MODOG goes the extra mile to ensure the puppy you adopt
becomes a dog you'll cherish forever.
Puppy Care
Our goal is to produce happy, healthy pets, that will easily adapt to their new homes. Believe it or not having a well designed kennel and children involved helps us do just that. We typically move mom and her new babies back to the kennel at 3 weeks of age. By now little eyes and ears are beginning to open and mothers waste no time showing them the ropes.
The pet doors lead to an equally spacious outdoor stall where they go potty. Mom has been cleaning potty for two weeks now, and she will not tolerate a soiled home for long. Most puppies learn to go outside as soon as they begin to walk. We prop the little doggy doors open a bit for easy access and our wise mothers do the rest.
At 4 to 5 weeks we begin handling, socializing, weekly baths and most importantly in-house training. Most all our females are housetrained and they generally assist us in the initial conditioning. Puppies soon discover the "human" door and the process slowly begins. I give the puppies AND mom a treat for the good potties. Our moms know the rules and they usually do the scolding for the bad potties and even help us clean it up.
We use pee-pads placed near the door and reward them for going outside to potty allowing them to use the pee pad for emergencies, or our lack of attention. This has proven to help both outdoor training and potty pad users.
Around 5 weeks of age we begin one on one conditioning. We try to install good chewing and playing habits, get them used to being alone and expose them to all the typical sights, sounds, and smells of a crazy American home. By eight to ten weeks of age they typically comprehend and often begin to enjoy the whole training process.
Formal potty training is a must and your responsibility. We don't claim to send you a potty trained puppy though some customers swear we sent them one. Puppies don't even gain full control of their movements until about four months of age. Puppies are usually mentally capable for training around 8 to 12 weeks. Please study one proven method and arrange the first few days together dedicate primarily to this lesson.
Our training methods are entirely reward based and we do not guarantee the success nor benefits of our efforts. We do try to initiate good habits by using proven methods and will inform, support and empower you to the best of our abilities throughout the life of your dog.
We try to make the entire adoption process as pleasant as possible, and we even prepare your puppy for the trip home with several car rides and time alone in their cozy little pet carrier. We even have a five day "flight training" course for puppies traveling by air.
State and federal law prohibit puppies leaving our facility before they are 8 weeks of age. We reserve the right to hold puppies beyond this age if further development, healthcare or socializing is needed.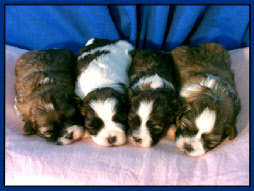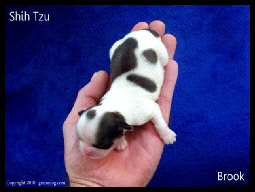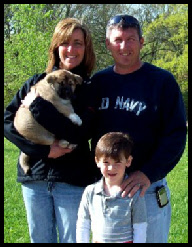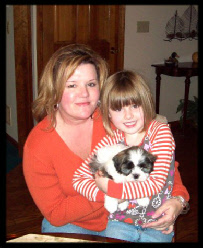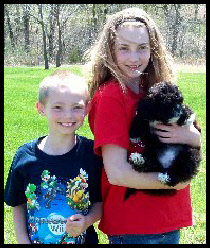 Consistently create happy, healthy, socialized puppies in a responsible loving manner.
Place each puppy in a safe, loving forever home with responsible caring owners.


© 2012 gomodog.com - All rights reserved.