Customer Referrals
Page Three
Chihuahua
Customer Pick Up
"HELLO,
HERES SOME PICTURES OF CHICO,HE IS A GOOD BOY, WE CALL HIM LITTLE MAN
OR MANNY ALSO,HIM AND FRITZI GET ALONG SO WELL, THEY'RE INSEPARABLE. HE IS
VERY SMART, HE PUTS HIS FRONT PAWS TOGETHER, SO IT LOOKS LIKE HE IS PRAYING.
WE LOVE OUR LITTLE MAN, THANKS SO MUCH. HOPEFULLY, HE WILL BE A DADDY IN THE FUTURE. THEY WILL MAKE BEAUTIFUL
BABIES."
RICK&DORIS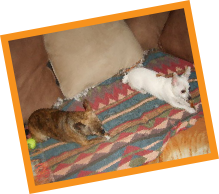 Malti Poo
(Commercial Shipping)
"I've told everyone about your website. There is not a day that goes by that I don't get over 20 people stopping me to play with Inka or ask about her. She is the sweetest puppy and so happy. We adore her.
She is smart! She is trained to ring the bell when she has to potty. On command (and a treat) she sits, lays down, stays, comes to me, rolls over, shakes, and sits pretty (with her paws up on hind legs). She knows her name and all my friends are jealous. Next tricks; pray and play dead. I work with her every day for about 10 minutes.
Thank you again!"
Ditto Tamer
Southlake, TX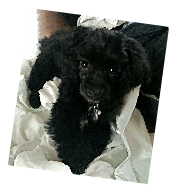 Shih Poo
Commercial Shipping
"Hi Robert,

I just wanted to drop a note to let you know Jack and Mo (your Jerry) are doing great! I am including a photo of them playing in the backyard.
I took them to my veterinarian yesterday and he was very pleased at their great health and appearance. He couldn't get over how shiny their coats are. He said if I wanted to rehome one, he would actually like to have one for himself.
My 2 year old shihpoo has taken on the roll of teacher and is very kind and patient with them. They are awesome dogs!

Thank you so much for providing us with cream of the crop dogs."

Jeri Ross
Oak Harbor, WA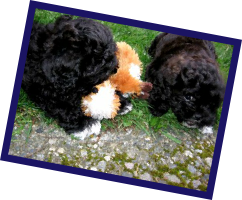 Maltese
Delivered
"Hello Robert,
Izzie is doing great. She seems real happy and I know Denise is as well. You have been truly outstanding thru this whole process.
Please put us down as
references. I would be more than happy to talk with any prospective customers and I will refer you most highly.
Thank you so much."
D. Norton Parkville, MO


Poodle
(commercial Shipping)
Robert,
I'm writing this message with one hand. Polly is laying in my arms. She is absolutely beautiful. She has great eye contact. She drank water right away. She ate a handful of food at home.. She also did potty outside as soon as we got home.
She came running over to me right after. I think she was looking for a treat. I didn't think about having one with me. I'm going to settle her in for the night. I send thanks to you and your family for such a beautiful pet. Lina
Dr. Lina Racicot Southwick, MA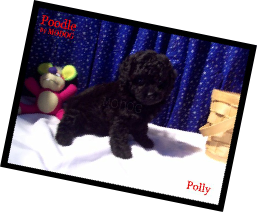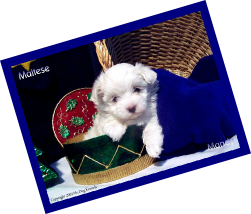 © 2015 gomodog.com - All rights reserved.