Customer Referrals
Page Ten
Shih Poo
Air Delivery
"Hi Robert ,
Just wanted to send you a few pics and let you know Kimi is doing great. She is so sweet and cuddly and such fun..
She is really smart and has become a sweet little lady.
Here are a few pics.
Hope all is well.
Jennifer Puetzer, New York, NY


Shih Poo
Air Delivery
"Hello Robert how are you and your family? Lilah and I are sending you an update email of how she is doing. Today she makes 8 months and she is growing beautifully:), and I couldn't ask for a better daughter at the age of 21 lol.
Having Lilah actually makes me want another and when I'm ready I will get another on from you. So thanks again for everything and Lilah and I wish you and your family a fun and safe memorial day. Take care Tiffany."
Tiffany Alexander, Brentwood, NY

Shih Tzu
Air Delivery
"Good morning Robert,
Sasha/Memzy arrived safe and sound.The flight was an hour late and we live an hour away from the airport so needless to say we didnt get home until almost 1 am. We love her she is beautiful, spunky and very smart!! she is perfect for me and my husband. She is settling in very well.
Thank you very much, i will be sure to recommend you to anyone who asks about my beautiful girl."
Sabrina Thompson, Tracy, CA

Shih Poo
Met Halfway
"Hi Robert.
Just wanted to send you a quick email to let you know we absolutely LOVE our Shih Poo Zeus (Kaleb). I've been wanted to get a good photo of all of us with the pup but between the kids and everything haven't gotten a chance yet but I will!
It's obvious you all are just doing a wonderful job with all your dogs and pups because he is the most well behaved, loving & fun puppy we have ever had!
I'm so grateful to have found GoMoDogs. Purchasing from you has really been a pleasure. Keep up the good work."
Daphnee Logan, Keene, NH

Shih Poo
Air Delivery
Hello Robert!
Just wanted to send you a short video of Mugsy (Jacob) & some pix. He's 1 1/2 years old now and we're really behind on keeping you updated. It looks like I'm limited to videos size 25 mb or smaller, so this one is just a quickie. He's very healthy, had a bout of kennel cough and an ear infection last september, but he's fully recovered now.
Pretty much housebroken except for the occasional "accident". Although he's over 1 year, he still behaves like a puppy - he'll destroy anything chewable within his reach - lap top cables, cds, tv remotes, couches, socks, flip flops, paper, etc. We're entertained almost daily by his sparring matches w/ our 6 year old cat, Jake.

We love him, he loves us. We're a happy family!
Zena Harris, Austell, CA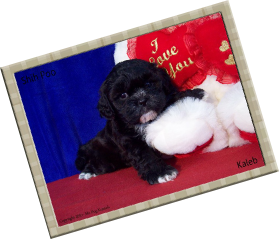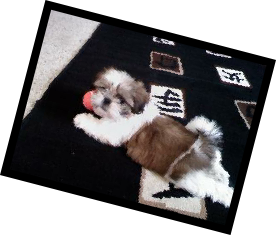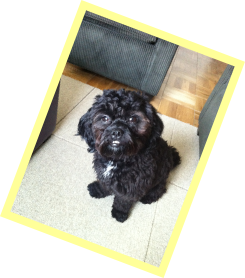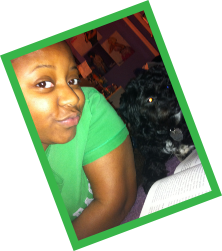 © 2015 gomodog.com - All rights reserved.